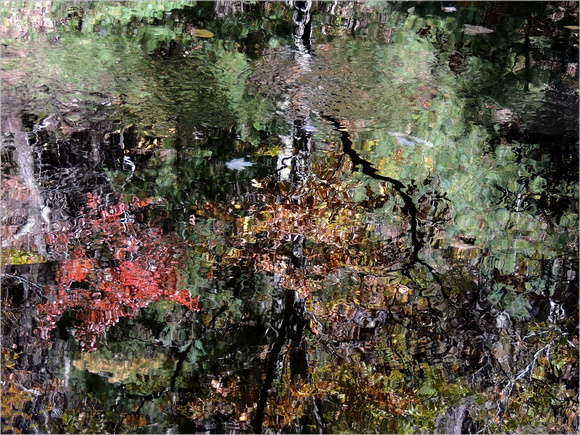 "Absinthe Autumn"When I see these reflections on mountain rivers I can't believe the impressionistic painted look when I enlarge them. I think they are my favorite times of seeing beauty..
You can request prints of ANY of my photographs or paintings by email:
r.jewel.forbes@gmail.com
PHOTOGRAPHS COME BEST IN 8 X 10, 11 X 14, AND 16 X 20 SO THAT YOU CAN USE PRE-CUT MATTING.
PROFESSIONALS ALSO LIKE TO PRINT IN A 12 X 18,16 X 20 AND 24 X 36 SIZE
Photo cards are affordable, available and make great keepsakes or for giving as a nature photography gift.
Currently in stock, I have some exquisite 16" X 20" metallic paper for $95.00 and Linen $75.00 prints that show my very best offerings. Ten or so of these will be on view at an exhibition at the Oak Ridge, Tennessee Library in the art viewing area during the Month of February!
IF YOU LET ME KNOW IN ADVANCE & YOU CAN HAVE ANY OF THE PRINTS SHOWN IN THE EXHIBITION UNFRAMED FOR A SPECIAL END OF SHOW CASH AND CARRY PRICE. TAKE HOME PRICING:
16x20 for just $49.00 framed for $99.00
11x14 for just $30.00 framed for $79.00
8x10 PRINTS for just $12.00 Series of 4 for $49.00
I would like to sell as a series of four if possible.
LET ME KNOW IN ADVANCE IF YOU CAN'T MAKE IT HERE TO OAK RIDGE AND I CAN SHIP TO YOU ANY OF THESE after THE EXHIBITION ENDING FEBRUARY 2014 for price plus shipping.